Posted by Bruno
On Saturday, September 22, 2012
0 comments
Protests in Moscow Metro Trying to Destabilize Russia
As witnessed last year those Russian protests are heavily and highly timed the more i see of these protests while there is another American NGO USAID funded civil war happening in Sryia could these protests that had occurred last year and are again reoccurring again today.
These protests have only one purpose and goal that is destabilization as it was done in 2000 and in Egypt, Libya, Sryia.
In Moscow the usual subject protesters demanded that Putin and his reelected goverment release the Free Pussy Riot, but the question is just who are the opposition in Russia? the western mainstream news outlets talking heads had already asked the same following question.
At the same western mainstream news outlets with the likes of CNN,BBC, aljazeera,telegraph,guardian and other news outlets. Previously had claimed that the opposition had supporters around 50,000 but as seen with Sryia and Libya protest we cant always rely by the claims that on the western mainstream news outlets makes, there own reporting speaks for itself.
Questionable timing ,Claims made by the opposition.
Interestingly enough these protests that are happening now in Moscow are very questionable due to the fact that we just witnessed selected Islamic countries raging there vents towards the American agenda and its foreign policy which is why i highly doubt it was really about the movie.
As reported by our MSM today that the opposition claims that they would reach atleast yet again with the claims of 50,000 people.

"The opposition expects 50,000 people to march down a central Moscow boulevard near the Kremlin on Saturday to urge Putin to resign, resuming protests that began after a disputed parliamentary election won by his party last December.
From SkinHeads to The Communists and to the Far left are the Opposition directed by former Serbian Otpor members, now aiding the Russian coded Otpor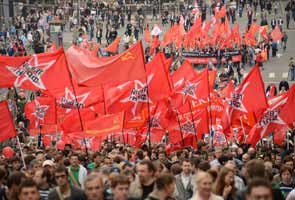 Waving nationalist flags, brandishing placards calling for early elections or wearing T-shirts in support of jailed members rock band Pussy Riot, the diverse groups of protestors began marching with the chant "1-2-3, Putin go!".
Police said that 5,000 people had already joined the protest but organiser and far-left leader Sergei Udaltsov said that at least 15,000 were involved in the early stages.
leader Sergei Udaltsov, nationalist, Trained by America.
is a radical Russian communist youth group. Its website describes it as an "independent youth organization, entering the all-Russian public political motion." Its "territory of action" is Russia,
Its "territory of action" is Russia, which it insists is still the heart and soul of "the republic of the USSR." The AKM's ideology is Marxism-Leninism and it forms part of the Left Front alliance. The unofficial leader of the AKM is Sergei Udaltsov (Сергей Удальцов), who has been arrested several times for protesting against Vladimir Putin's regime
The name of the organization is the backronym of AKM, a model of the well-known Kalashnikov assault rifle. Its organizational structure uses military terminology: battalion, brigade. Most cities will house an "отделение" or squad of AKM, with several squads forming a battalion. Currently battalions exist in Moscow and St. Petersburg.
Kagarlitsky quotes a young AKM radical as shouting: "We will turn Moscow into Paris!" It is unclear how much support the AKM currently has from other organizations in Russia, or whether it truly plans on becoming a vanguard party.
In October 2008, the AKM joined the Left Front, an alliance of revolutionary Marxist and anarchist groups.
From the radical communists to the far left wing groups these are whom that America and Sen John McCain wants them to led Russia if they re copy what had happened in Sryia, Libya i assume these radical groups that are in Russia and had been trained by America and they are awaiting the results from the manufactured Arab Spring and the selected countries.
We should be extremely concerned if Sergei Udaltsov is not the only the leader of an extreme far left wing movement but also if his in charge of an armed splinter radical Russian group.
From
rnw
it was claimed.
Thousands are expected to attend opposition rallies across Russia on Saturday, with tensions running high over criminal probes into protest leaders and the jailing of punk group Pussy Riot.
More than 16,000 people had signed up on popular social networking sites by Friday to attend the the "March of Millions" rally in Moscow, which the city authorities have sanctioned for up to 25,000 people.
Smaller protests were expected in Russia's second largest city of Saint Petersburg and in regional cities from the western enclave of Kaliningrad to the Far Eastern port of Vladivostok.
Russia is a country of 141 million people and the mainstream news outlets had claimed that the Russian opposition has the dwindling support of the general public.
"One of the leaders of the United Russia party has argued that Russia's opposition has dwindling public support and that Saturday's March of Millions protests in Moscow proved this."
"Left Front party leader Sergei Udaltsov and one of the leaders of the Solidarnost (Solidarity) coalition, Boris Nemtsov, represent directly opposite views, Isayev claimed. This means that "the population will stop supporting rallies."
The western mainstream news outlets again as they as stated last year claimed that the protests were in the millions
From left-wing, liberal, nationalist opposition wings to communists These are the Opposition that are protesting Putin and who want take over.
To my surprising the western mainstream news outlets with the likes of the Ukraine news oulets have so far refused to tell its audience and readers that majority of the protesters are nothing then communists and Nazis.
The Liberal Democratic Party of Russia
is a political party in Russia. Since its founding in 1991, it has been led by the charismatic and controversial figure Vladimir Zhirinovsky. Opposing both communism and the "wild" capitalism of the 1990s, the party scored a major success in the 1993 Russian Duma elections, receiving a plurality vote.
In the elections in 2007, the party received 8.14% of the vote, giving it 40 of the 450 seats in the State Duma. In the most recent 2011 elections, they increased their percentage to 11.4%. The party's brand and organization are centered around the personality of its leader Zhirinovsky. Despite the party's name, it is frequently described as "neither liberal nor democratic.
The other opposition group are the Communist Party of the Russian Federation and the other opposition group the western liberals.
But even with these opposition groups are these really the best choices for the future of Russia? Russia to be controlled by nationalists,radicals, Nazis.
It almost reminds us so well at work that how John McCain and his Friends how they did it in Egypt by bringing in the Muslim Brotherhood into power.
After Yeltsin screwed everything up and Putin has made such efforts to restore both glory and stability, I find it hard to believe that everyone is so unhappy over there.
The Number Game How Many protesters were actually there?
If you read the kyivpost and the western mainstream news outlets sources there usual reporting is one sided and just as before from last year they claimed that there weree at least 7,000 police officers present at the protest rallies.
The mainstream news outlets still maintains the narrative claim that the 100,000 to 500,000 people did came to the protest rallies.
after a summer lull drew tens of thousands of people, determined to show that opposition sentiment remains strong despite Kremlin efforts to muzzle dissent.
The street protests broke out after a December parliamentary election won by Putin's party through what observers said was widespread fraud, and they grew in strength ahead of Putin's effectively unopposed election in March to a third presidential term.
Huge rallies of more than 100,000 people even in bitter winter cold gave many protesters hope for democratic change. These hopes have waned, but opposition supporters appear ready to dig in for a long fight.
Leftists, liberals and nationalists mixed with students, teachers, gay activists and others as they marched down Moscow's tree-lined boulevards chanting "Russia without Putin!" and "We are the power here!" Many wore the white ribbons that have become the symbol of the protest movement.
Sergei Udaltsov, was detained along with a handful of his supporters when he tried to lead a group of about 50 on a new protest march.
Alexei Navalny, a charismatic anti-corruption crusader and a popular blogger, remains the rock star among the protest leaders. When he took the stage, young people in the crowd held up their phones to record the moment.
"Screenshot taken from the National Endowment for Democracy website featuring US funding for the NGO "Golos." Golos allegedly was searching for "election irregularities." Golos and other US-backed NGOs and opposition parties are now attempting to trigger an "Arab Spring" in Russia."
Navalny urged the demonstrators to show resolve and keep up the pressure on the Kremlin with more street protests.

The rally appeared as big as the last major protest in June, which also attracted tens of thousands. More of the demonstrators, however, came not as members of the varied political organizations that make up the protest movement, but with groups of friends and co-workers, some of them organizing on social networks.
This line about the protesters from the news article is rather interesting it states a lot more in detail, for insistence.
"
however, came not as members of the varied political organizations that make up the protest movement, but with groups of friends and co-workers, some of them organizing on social networks."
This report is from ria.ru
"While some observers expect tens of thousands to attend, only around
3,200 people have confirmed
their attendance on the
event's Facebook page.
"
According to the daily times of Pakistan the moment they started quoting an AFP estimate for the actually estimated amount of protesters whom were there, the AFP estimate.
Some 40,000 people turned out for the "March of Millions", according to an AFP estimate, in line with organisers' expectations but down on the massive first protests that first rocked Moscow in December and rallied over 100,000.
Police and organizers gave vastly different estimates, accusing each other of not knowing how to count. Police said that 14,000 people joined the protest, but organizer and far-left leader Sergei Udaltsov saw at least 150,000. Waving nationalist flags, brandishing placards calling for early elections or wearing T-shirts in support of jailed punk band Pussy Riot, protestors hoped to build on the anger created by fraud-tainted elections and Putin's 12-year grip on power.
On Sat Reuters claimed the opposition had shown its strength by claiming that 50,000 people had attracted at the protest rallies.
Witnesses said opposition leaders appeared to have achieved their goal of attracting at least 50,000 people, enough to maintain the momentum of their nine-month-old movement but almost certainly too few to increase alarm in the Kremlin.
In the same Reuters article it had claimed that the poll ratings for Putin were falling however without adding any references nor mentions of which poll had showed that Putin poll were falling.
Even so, opinion polls show Putin's ratings, although still high by Western standards, are falling.
It claims that the opinion polls in Russia show Putin's ratings are still high by western standards are falling without referencing to which Russian opinion poll had shown that Putin were falling.
The article mentions who are the opposition.
"There was also more focus on social problems than at previous protests, and more communists marched this time with nationalists, liberals, gay rights campaigners and leftists."
Russia's Opposition Divided
In a AFP article it has stated that the Russian opposition remained divided after the protests came to a close at 10:00 pm it went further on to state that the opposition were not getting the strength neither the support they were expecting.
Russian opposition leaders argued Sunday over the turnout and success of the latest rally defying President Vladimir Putin, after tens of thousands marched through central Moscow.
The rally on Saturday, called the March of Millions, featured playful T-shirts and slogans mocking Putin and calling for the release of jailed punk band Pussy Riot, but crowds thinned long before it ended at 10:00 pm.
Police put numbers at around 14,000, down from 18,000 at a previous rally in June. But rally organizers gave varying estimates of up to 150,000.
"Prominent protest organiser Sergei Udaltsov of the radical Left Front movement put numbers far higher, at 150,000, but argued the rally had failed to make any political impact."
Protest organizer and leader of the radical Far left movement claimed to an reporter that he had witnessed 150,000 people at the protest.
The prominent far left proclaimed on twitter that the protest is not declining and claimed that its the the authorities are ignoring the actually numbers but these 150,000 figure count came from, Sergei Udaltsov.
"put numbers far higher, at 150,000, but argued the rally had failed to make any political impact."
Sergei Udaltsov as seen in the picture his rally was small centered so where has Sergei Udaltsov came up with the 150,000 if there weren't that many protesters? the reasoning for that is because the number came from Sergei.
The number that Sergei made up with no other sources then himself.
"Police put numbers at around 14,000, down from 18,000 at a previous rally in June. But rally organisers gave varying estimates of up to 150,000."
" There were not more than 20,000 people at the march to the rally," wrote Vedomosti."
The Russian Opposition remains divided after the protests had ended last weekend, with no clear objective on what would the opposition do after and if Putin is gone. Since the protests of last the opposition which is funded through by USAID.
Have not proposed any policy chances regarding there own platform which only calls for Putin to step down.
With USAID closing down its operations for influencing inside Russia, the opposition now no longer have any means of funding which they can get. For there operations inside Russia which are directed by America and its NGO counter parts.
Posted by

Bruno
at 1:42 AM